Flirt tonight!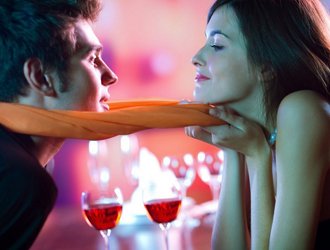 Flirtation is a special way of communication. It starts as soon as you get someone's attention with conscious and unconscious moves, gestures, behavior… – with body language, as they call it. Its right use can bring you more success than just sophisticated talk at the bar counter. But of course you should learn it.
This is what American psychologies advise women to do if the latter want to meet men in places of entertainment.
Get His attraction, staring at Him and smiling. This way you'll make Him understand you aren't going to feel bored all alone tonight and you wouldn't mind if He kept you company.
You can start your conversation with a simple question like "How are you tonight?"
When talking, pay attention to something small or any peculiarity that you like about you're your frankness will be well repaid.
Try to find something that you both may be curious about: common interests, sports, hobbies and so on.
Talk to Him about the latest trends in fashion, culture, music, cinematography and literature. Try not to impose Him your opinion or rule the conversation. Your aim is get to know and learn the person who is with you.
Don't touch upon complex political or religious issues, because it's not good if His views differ from yours. Psychologists claim that it's practically impossible to change other person's mind. Moreover, that's not what we need this evening, right?
Try to make Him take the initiative – let Him be interested and rule the conversation.
If the conversation starts to die out, you have to invent something new. Now it's high time to talk about something more "personal" and romantic. Tell Him about a happy episode from your life or act out a "What would you do if…" situation.
The most important thing is to benefit from nice talk, exchange impressions and enjoy communicating with a nice person, but not to rehearse your grievances.
And the last but not the latest thing: be tolerant with His disadvantages and being too plain-speaking. It's big luck to be able to listen, understand and leave good impressions tonight.